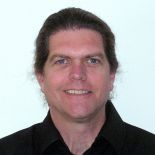 Joe Kraynak is a freelance writer/editor who has authored and co-authored numerous books, including Natural Cures For Dummies, Flipping Houses For Dummies, Bipolar Disorder For Dummies, The Complete Idiot's Guide to Facebook, Take the Mic, Stage a Poetry Slam, and Master Visually: Creating Web Pages.
Joe graduated Purdue University with a B.A. in Creative Writing and Philosophy and an M.A. in English Literature. For three years, he wrote for Training Specialists, Inc., where he interviewed machine operators in manufacturing plants and prepared task-analysis training manuals for Indiana's Training for Profit (TfP) job-training program.
He spent the next five years working in-house at Macmillan Computer Publishing, where he edited and wrote books on a variety of computer topics primarily for beginning computer users.
Joe has been freelancing for more than 15 years, collaborating on writing projects for some of the top publishers in the industry, including Pearson Education and John Wiley & Sons.