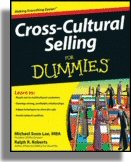 By Michael Soon Lee and Ralph R. Roberts, with Joe Kraynak
According to the Selig Center for Economic Growth, the combined purchasing power of the multicultural market grew to over $2 trillion in 2007, exceeding the annual GNP of all but the nine largest economies of the world. Yes, the marketplace has gone global, but many business owners, CEOs, and salespeople haven't yet made the transition. As a result, they're handing their share of this potentially lucrative market to anyone who's smart and ambitious enough to accommodate customers from other cultures.
Don't let your competitors chip away at your multicultural market share without a fight. By being the first in your industry to pursue the multicultural market, you have an excellent opportunity to boost your sales and your bottom line. And Cross-Cultural Selling For Dummies shows you how.
In Cross-Cultural Selling For Dummies, diversity and sales expert Michael Soon Lee of EthnoConnect and sales coach and speaker Ralph R. Roberts (AboutRalph.com) team up to show you how to adjust your strategies to the needs of buyers from other cultures, so you can instantly grow your market by at least a third!
Cross-Cultural Selling For Dummies provides practical tips and strategies showing you exactly what you need to do to appeal to clientele from different cultures:
Assess your multicultural readiness (a self-test)
Meet and greet prospective clients without turning them off
Adapt your sales presentation and techniques for optimum effect
Recognize multicultural buying signals
Acquire closing techniques that are more effective with clients from other cultures
Negotiate with clients who may have more experience and expertise with haggling than you do
Build your referral base in the ethnic community
Hone your multicultural customer service skills
Adjust your marketing campaign to make it more appealing to clients from other cultures
Go beyond marketing to make your entire business multicultural friendly
Redesign your store or office to make it appeal to a broader clientele
Adapt your product line for multicultural sales
Assemble and manage your own multicultural sales team
Discover commonly held myths about your own culture and others that may be holding you back
Uncover a host of multicultural resources that can help you transition your business for other markets
Where to Buy