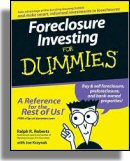 By Ralph R. Roberts, with Joe Kraynak
The bursting housing bubble and rising default rates on mortgage loans have sparked an upsurge in the number of foreclosures across the country. Now is the time to invest! But when it comes to investing in foreclosure properties, both savvy real estate investors and average folks want to know how to make smart and informed choices. If you're looking for expert advice and tips to become a more successful investor, the newly-published, first edition of Foreclosure Investing For Dummies by Ralph R. Roberts and Joe Kraynak (authors of the highly successful Flipping Houses For Dummies) is for you.
Foreclosure Investing For Dummies covers all aspects of investing in foreclosure properties — from working with distressed homeowners in preforeclosure, identifying and bidding on potential properties, assessing value, and working with lending institutions, to financing options, teaming up with real estate agents, and networking in your neighborhood to discover the best deals. In short, this book is for everyone looking to make smart choices, minimize risk, and maximize profits when investing in foreclosure properties.
This no-nonsense guide gives you the start-to-finish scoop on:
Jumping in early during the pre-foreclosure stage
Researching property titles, mortgages and deeds
Inspecting the property inside and out
Building a strong investment team
Obtaining financing
Networking your way to success
Avoiding common pitfalls
Investing with integrity
Foreclosure Investing For Dummies shows you how to thoroughly research and inspect properties and create a "dossier" for each property, so that before you talk with homeowners facing foreclosure or bid on a property at auction, you have a clear idea of the property's true market value and any problems with the property or its records. The dossier also enables you to track the property during the foreclosure process, so you remain aware of any issues that arise as the foreclosure progresses.
Like all For Dummies®books, Foreclosure Investing For Dummies concludes with the "Part of Tens," including "Ten Common Beginner Blunders," like overestimating a property's value, overbidding in the heat of the battle, and trusting what the homeowners tell you; and "Ten Tips for Avoiding Common Foreclosure Minefields," such as anticipating delays and inspecting the property with your own eyes. The always helpful "Cheat Sheet" provides a pre-flight checklist and lists of how to invest in pre-foreclosures and buy properties at foreclosure auctions, and the appendix brings you up to speed on foreclosure rules and regulations in all 50 states.
Where to Buy