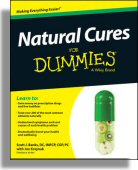 Packed with nearly 200 remedies for the most common ailments, from arthritis to varicose veins, Natural Cures For Dummies is your complete health advisor. This user-friendly reference arms you with information on the symptoms and root causes of each condition along with proven, natural remedies. Whether you're looking for relief from a particular nagging ailment or simply wish to achieve optimum health, Natural Cures For Dummies gets you on track to approaching healthcare from a natural standpoint.
Give your body what it needs to heal itself — the right nutrition and supplements… and a copy of Natural Cures For Dummies.
Dr. Scott J. Banks, Chiropractor and Functional Medicine Certified Practitioner, shows you how to harness your body's self-healing powers to prevent and cure the most common illnesses. In Natural Cures For Dummies, you discover how to:
Optimize health through nutrition and lifestyle.
Target the cause of chronic health conditions instead of merely suppressing their symptoms.
Boost your immune system to combat the common cold and other infectious illnesses.
Use a natural sugar called Xylitol to prevent ear infections and reduce cavities.
Improve your digestion and restore proper immune function at the same time.
Alleviate allergies, asthma, and food sensitivities.
Reduce the risk of childhood vaccinations.
As do all For Dummies® guides, this book includes a Part of Tens. In Natural Cures For Dummies, you get
Ten ways to get the most out of natural medicine
Ten rules of the road
Ten essential natural remedies
Ten natural cure maxims
This book also includes three appendixes to serve as your guide to over-the-counter supplements:
Vitamins and minerals
Nutritional supplements
Natural hormones
Where to Buy