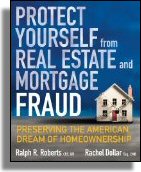 By Ralph R. Roberts and Rachel Dollar, with Joe Kraynak
Protect Yourself from Real Estate and Mortgage Fraud: Defending the American Dream of Homeownership exposes the epidemic of real estate fraud in America and describes a host of scams ranging from the simplest to the most complex. The book shows readers how to spot the signs of a scam, educates them on how to avoid being taken advantage of, and provides practical information about what can be done to help bust the bad guys and recover from a scam when you fall victim.
According to the FBI, real estate fraud is one of the fastest growing white-collar crimes in the United States. From 2003 to 2004 reports of mortgage fraud jumped 146% and jumped another 28% from 2004 to 2005. Reported dollar losses from mortgage fraud increased 90% from 2003 to 2004 and 136% from 2004 to 2005. Currently, lenders report over $1 billion in losses annually from mortgage fraud, and this accounts for only about a third of the losses actually suffered (only a third of the industry is subject to mandatory reporting requirements.) Real estate fraud is perpetrated in numerous ways, including:
Artificially inflating the value of a home to obtain a larger loan.
Inflating the value of a home so you can offer the buyer cash back at closing.
Submitting false documents to secure financing, including phony paycheck stubs and fake W-2's.
Taking out multiple mortgages on a property that collectively far exceed the value of the property.
Lying to a homeowner who's facing foreclosure in order to get them to sign over the deed for a pittance.
Selling a home without disclosing to the buyer that it has a tenant.
Selling the same home to several different buyers.
Protect Yourself from Real Estate and Mortgage Fraud: Defending the American Dream of Homeownership also provides real-world examples — compelling case studies — each of which illustrates exactly how real estate fraud is committed. Post mortems follow each of the examples, pointing out exactly how consumers and real estate industry professionals alike can spot, avoid, and shut down the bad deals.
Topics Covered
Defining real estate fraud: real-world examples of real estate scams.
Demonstrating the catastrophic effects of fraud on individual homeowners; the real estate industry; and local, state, and national economies.
Differentiating between fraud for profit and fraud for housing.
Identifying common schemes and schemers, including asset rental, air loans, chunking, double sales, straw buyers, nominees, and faulty appraisals.
Spotting the warning signs of a fraudulent real estate deal.
Proven tips and tricks for avoiding fraud and steering clear of gray areas in your real estate transactions.
Practical advice for real estate agents, appraisers, mortgage brokers, investors, title companies, lawyers, and homeowners.
Reporting fraud: One person can shut down a shady deal. Why you need to be that person and what you should do when you suspect fraud.
Guidance on what to do if a con artist has victimized you or a relative, friend, or acquaintance.
Advice on what to do if you or a loved one has knowingly or unwittingly been involved in a fraudulent deal.
Where to Buy