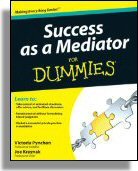 Success as a mediator means knowing not only how to mediate disputes but also how to build a thriving mediation business. In Success As a Mediator For Dummies, you learn both.
Approximately two-thirds of the book focuses on the art of mediation, while the remaining third tackles the business end of mediation. In Success As a Mediator For Dummies, you discover how to
Manage the mediation process from start to finish
Maintain confidentiality and neutrality
Mediate litigated and non-litigated disputes
Choose an effective mediation style — facilitative, transformative, or evaluative
Mediate in joint session and separate caucus
Understand and use conflict dynamics to resolve disputes
Attract clients and referral business
Acquire Essential Mediation Skills
Success As a Mediator For Dummies assumes no prior knowledge of mediation. Whether you're just getting started, are a seasoned attorney wanting to make the leap to mediation, or have been mediating for several years, you'll find valuable guidance and insights.
If you're a rank beginner, you learn how to choose a niche market that's right for you and obtain the basic education and training to get started. The book also brings you up to speed on the mediation process — from the time a client contacts you or the courts assign you a case until the successful resolution of the dispute.
Mediation beginners and veterans discover how to make the most of essential mediation skills, including
Anchoring
Framing
Interest-based negotiation
Distributive bargaining
Logrolling
Bracketing
Problem-solving
Appealing to higher values
Break Impasse
Discover why impasse is a good thing and learn techniques for breaking through impasse, including how to
Construct a decision tree
Perform a cost-benefit analysis
Reframe issues to shift the parties' perspectives
Bracket the parties' way to compromise
Use a contingency agreement to call a bluff or overcome last-minute reservations
Uncovering hidden interests, absent stakeholders, and secret constraints
Close and Memorialize the Parties' Agreement
Discover the right way to close a mediation and get the participants to put their agreement in writing:
Avoid the urge to split the baby
Discourage nibbling
Get the agreement in writing
Make sure the deal is durable
Build and Grow Your Mediation Practice
As a mediator, you're a small-business owner, so you need to know the basics of starting a business and marketing your services effectively. In Success As a Mediator For Dummies, you discover how to
Draft a business plan and budget
Set rates and fees
Join a panel to share fees and reduce overhead
Market yourself and your business online and off
Network effectively to grow your business through referrals
And more…
Master Mediator Victoria Pynchon leads you through the mediation process from start to finish, sharing her expertise and insights from her 25 years plus in commercial litigation and mediation practice. In addition to offering expert guidance, Pynchon shares
Ten practices of the super mediator
Ten major mistakes and how to avoid them
Ten tips for busting impasse
Basic legal concepts and terminology you'll need to get started
Guidance on how to get your foot in the door
Opportunities for mediators in the public and private sectors
Real world examples of mediation strategies and techniques in action
Where to Buy