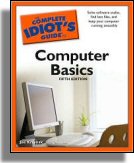 By Joe Kraynak
Most introductory computer books focus on hardware — CPU, RAM, motherboard, hard drive, expansion cards, and other high-tech gear. The Complete Idiot's Guide® to Computer Basics, Fifth Edition, takes an entirely different approach. It assumes computer users are about as interested in what's inside their computer and how it works as drivers care about what's under the hood of their cars. People want to use their computers to perform practical tasks, such as typing letters, managing their personal finances, shopping online, communicating with friends and family using email and online messaging, editing digital photos and videos, listening to music, and tuning in to YouTube. The Complete Idiot's Guide® to Computer Basics, Fifth Edition shows them how.
This book puts the "personal" back in personal computing. It places the power of the computer back into the hands of the people. Instead of expecting readers to understand their computers, it shows readers how to put their computers to work for them — how to make them more productive and improve the quality of their lives.
In The Complete Idiot's Guide® to Computer Basics, Fifth Edition, readers discover how to:
Compose letters and create custom publications.
Track down lost and misplaced documents.
Decorate documents with professional clip art and other graphics.
Shop at mega-malls and specialty shops without leaving their home — and save money, too!
Send and receive e-mail with the click of a button.
Carry on conversations with friends, relatives, and complete strangers anywhere in the world free with instant messaging.
Plan their vacation, get medical advice, and find maps and directions to nearly any location.
Copy music clips from the Internet and from their CD collections and burn their own custom CDs.
Take photos with a digital camera, transfer them to the computer, make prints, or e-mail photos to friends and family.
Create their own websites or blogs (web logs) to express their views, communicate with family and friends, or market their products and services.
Edit their home videos and copy video clips to CDs, DVDs, or VHS tapes.
Tune up their computer to keep it running at peak performance.
Practice green computing to reduce, reuse, and recycle.
Where to Buy